You will receive an autographed paperback copy of this awesome book by author Charles Goodwin for only US$26.95 plus $4.95 airmail = $31.90

The exchange rate if applicable of your card provider may vary slightly and be applicable to the date your provider debits your statement. If you require the current exchange rate, click the link to the right.

Your personally autographed book will be posted by air mail within just 1 business day of ordering.

You will also receive a confirmation email from us confirming the date and time of posting.

               How Do I Get My Bonus E-Books?

Upon verification, (usually within a few minutes) you will receive an email confirming your order. This email is your official receipt and should be stored and/or printed.

In this email, you will also be directed to our Download page where you will be given easy No Fuss directions on how to download your your Bonus E-books.

For your continued peace of mind Wealth Creators Club's friendly support is available up to 18 hours per day - 7 days a week.

Welcome to Wealth Creators Club

You are entering your details on a Certified Secure Server Transaction Site.  For your security and peace of mind, Industry Standard SSL Encryption Technology is used. You may be totally assured that your personal and/or card details are never given to any other company under any circumstances.

The Following Information is for the PaperBack copy Only

Please note: Fraudulent use of credit cards will be reported to the authorities in your country.

Your Internet IP address is recorded. Therefore if required, the actual identity of the user can be verified by your Internet Service provider.


Simple No Fuss Download Directions

Charles Goodwin's awesome book

The Secrets Of

Wealth Creation

Revealed


Or You May Order Via PayPal

2 Easy Secure Ways To Order the Paper Back version Now!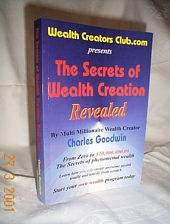 Proceed to Our

Secure Server to Order




To your success!

Warm Regards

Graham Lake CEO